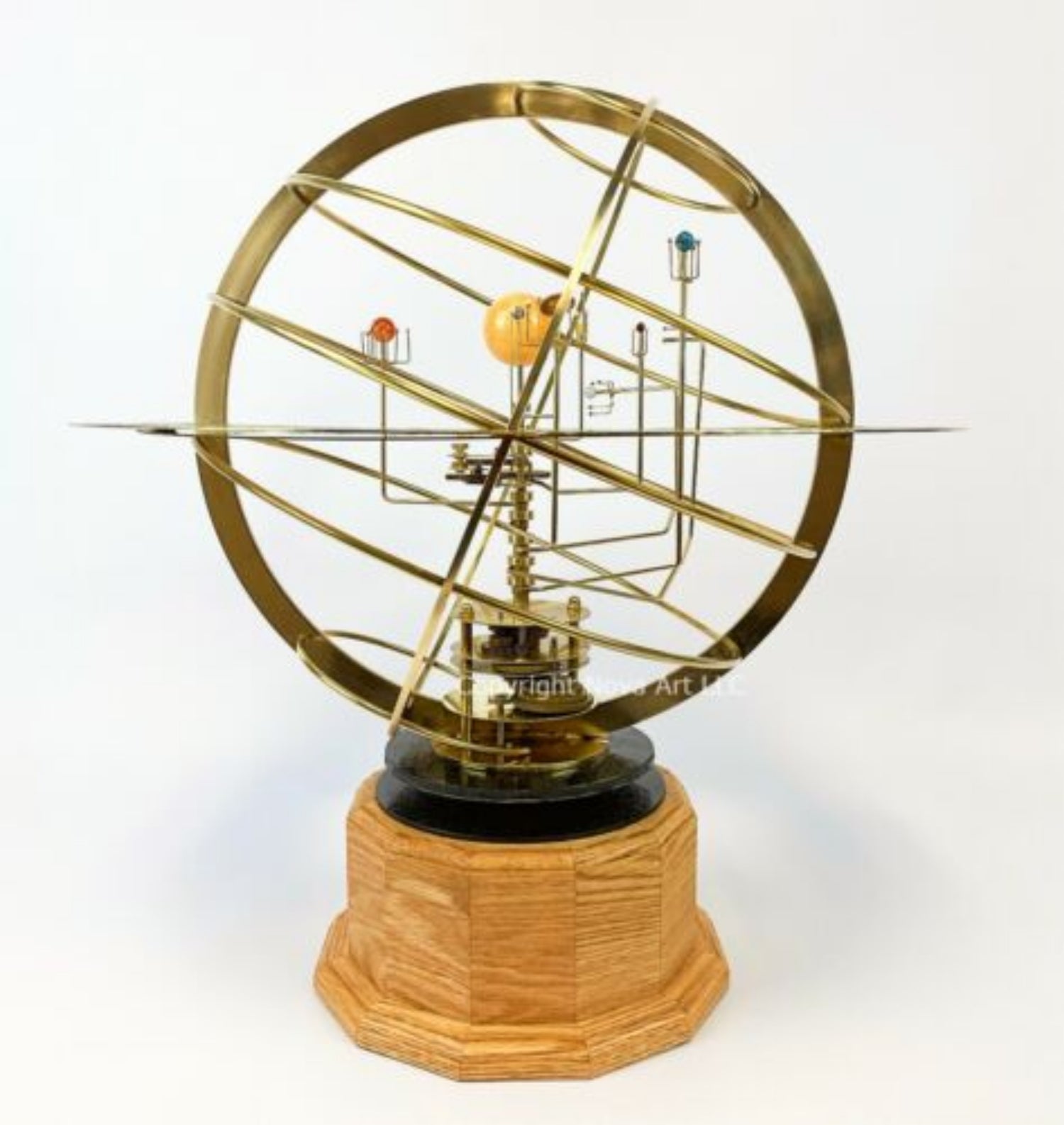 Simple and Sophisticated
Our Tower Orrery is an original Science Art design, blending a simpler hardwood base with a larger full armillary sphere.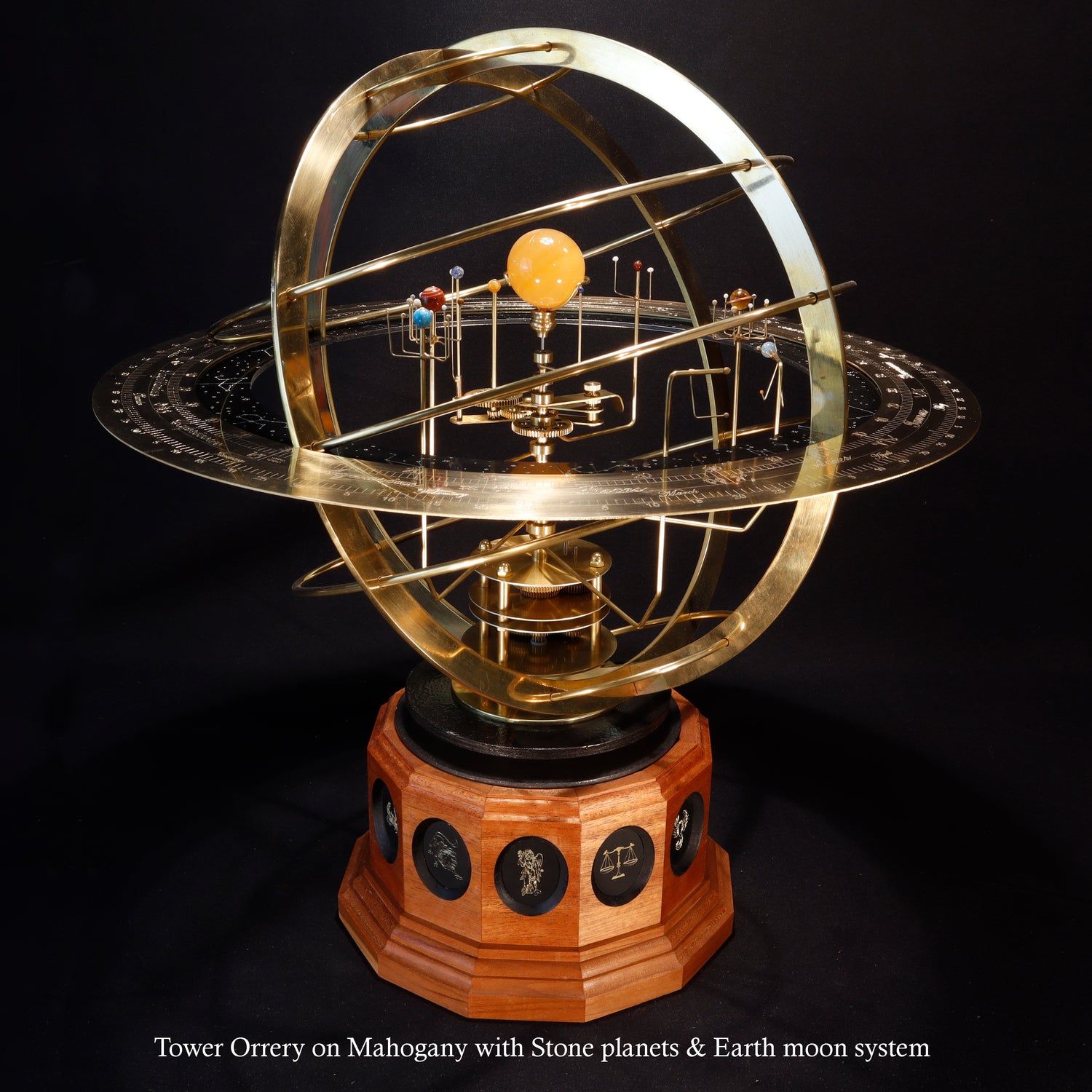 Variety
The Tower Orrery is offered with a variety of options in hardwoods and planets set, as well as optional engraved or bas relief zodiacal panels. Contact us for custom requests.
I have a question about customization.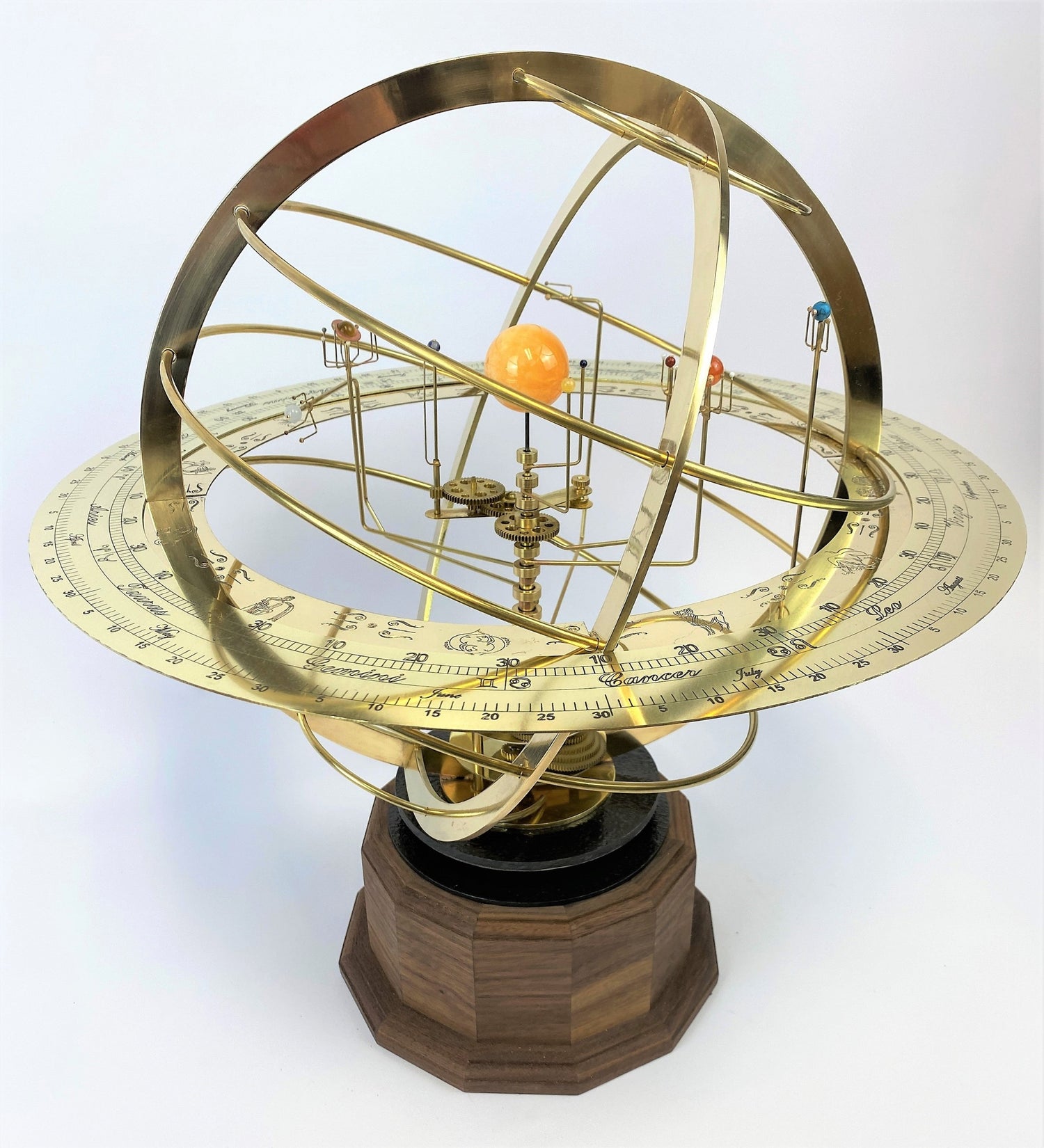 Art & Engineering
Each component of our orrery models--from hardwood base, gear mechanism, engraved calendar ring, planet set and armillary sphere--are designed, engineered and hand crafted by Science Art in the USA.
Newly redesigned Tower Orrery Models:
Our Tower Orrery models are entirely unique designs to Science Art. The new design includes a full brass armillary sphere that surrounds the planets and Sun, with a brass engraved calendar ring that depicting the days of the year and the symbols of the zodiac.  An added inner ring depicts the zodiac as star constellations.
Features of the Tower Orrery
Sun and Planets/Correct relative motion
Correct relative orbital speeds of all 9 planets (we include Pluto).
Relative speed means the ratios of the planet's orbits to one another are the same ratio as in our solar system, but the mechanism is sped up so that motion is discernable (i.e., it takes less than a minute for the Earth to complete an annual orbit, not 365 days). Mercury orbits 1028 times for every 1 orbit of Pluto. 
The Sun, 9 planets, and 28 moons are made of beautiful semi-precious stone spheres including lapis, orange calcite, banded agate, turquoise. We also offer a solid brass Sun with hematite planet and stone moons.
Hardwood Base
Each Tower Orrery rests upon a twelve-sided base crafted from solid natural oak, solid black walnut or solid red mahogany.
The hardwood base is offered with or without optional zodiacal panels (additional cost) depicting the houses of the zodiac, either in bas relief or engraved on brass.
Custom hardwoods are accepted and cost varies. Please inquire and know we do not use exotic/rare hardwoods or non-sustainable woods.
Gearworks and Calendar Rings
Solid brass gears drive the clockwork mechanism and are fully visible beneath the orbiting planets.
A full handmade brass armillary sphere surrounds the planets and gearwork, An armillary represents the axial tilt of the earth with respect to the plane of the ecliptic.
The traditional calendar days and symbols of the houses of the zodiac are engraved onto the solid brass ring which gracefully divides the upper and lower sections of the full armillary.
An inner ledger ring depicts all twelve major constellations of the night sky.

Specifications
The Tower Orrery stands 20 inches high with a calendar ring span of 16 inches. The hardwood base measures 9 inches across.
Battery operation takes 3 C batteries included.
Crank Models are not available for models which include the optional zodiac panels.
Regular price
$3,495.00 USD
Regular price
Sale price
$3,495.00 USD
Unit price
per
Sale
Sold out
Materials

Customer choice of hardwoods and planet styles.
Shipping & Returns

FREE SHIPPING ON INTERNATIONAL AND DOMESTIC ORDERS

NOTE TO INTERNATIONAL CUSTOMERS: DUTY/VAT IS RESPONSIBILITY OF THE BUYER OR RECIPIENT. PLEASE CHECK WITH YOUR COUNTRY'S TAXING AUTHORITY FOR ESTIMATED TAXES. We offer free international shipping, a  $250+ value to help offset any duties assessed by your country.
Care Instructions

Brass and hardwood require only minor dusting with no hard abrasives. Brass will naturally tarnish. If you wish to maintain a bright brass look, use 000 steel wool to polish the armillary sphere, calendar ring and planet arms.
Share
View full details