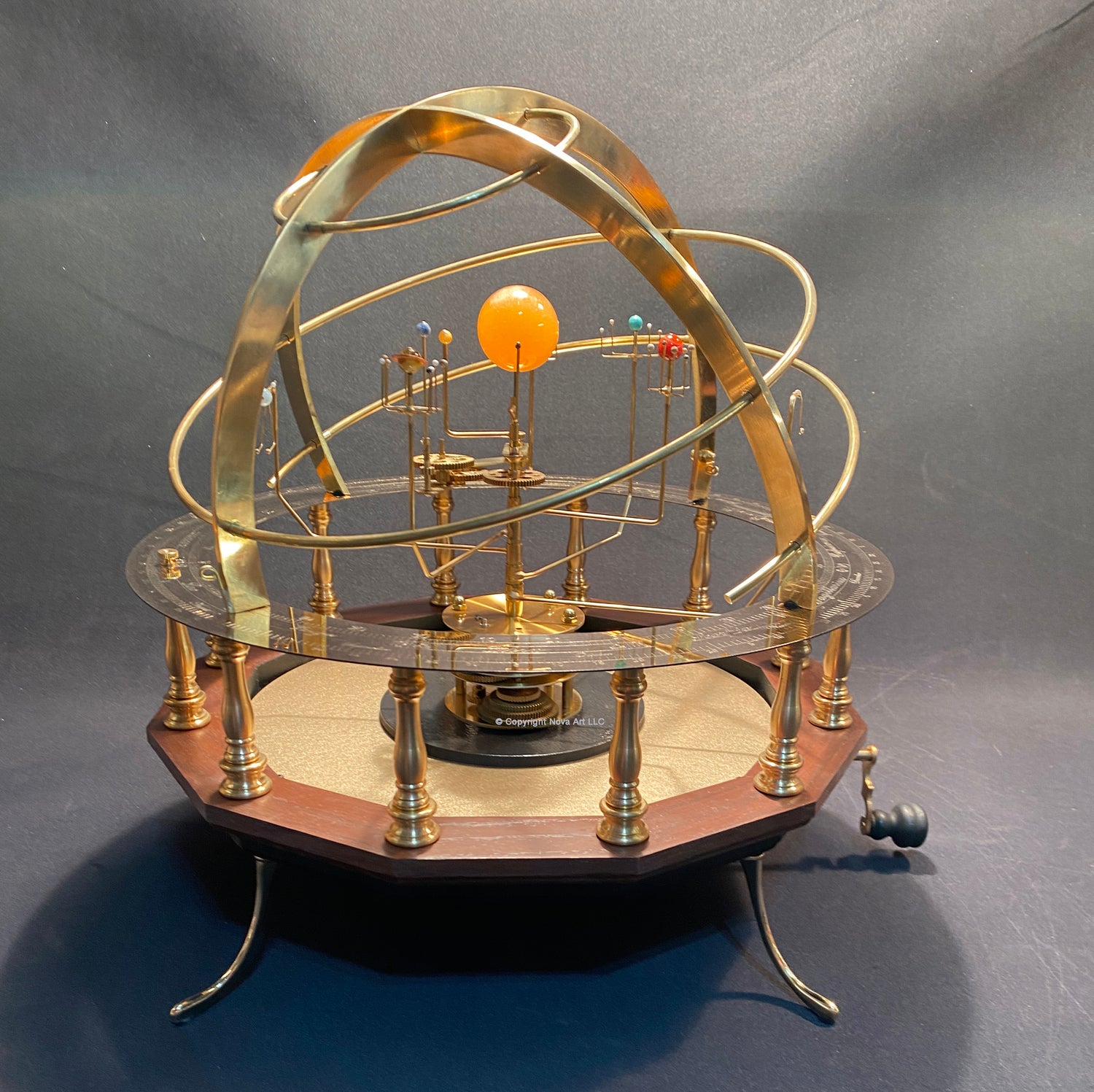 Baby Grand Orrery
Our Baby Grand Orrery solar system models include all the functional components of our Grand Orrery, but has a low profile hardwood base.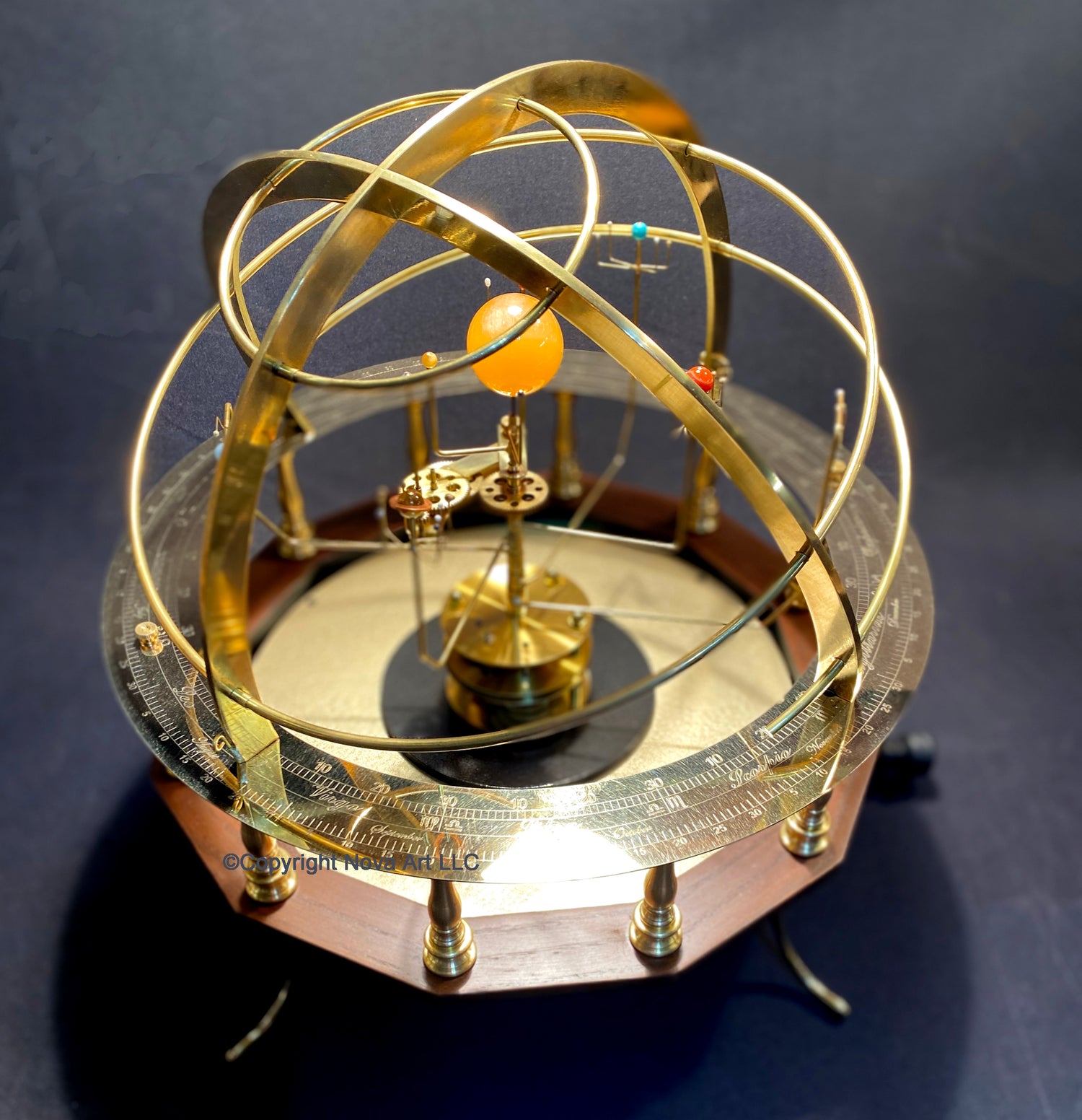 Variety in materials and function
Customize your Baby Grand Orrery to suit your style and preferences. We offer a variety of hardwoods, planet styles, and mechanical functions. Contact us for custom requests.
I have a question about customization.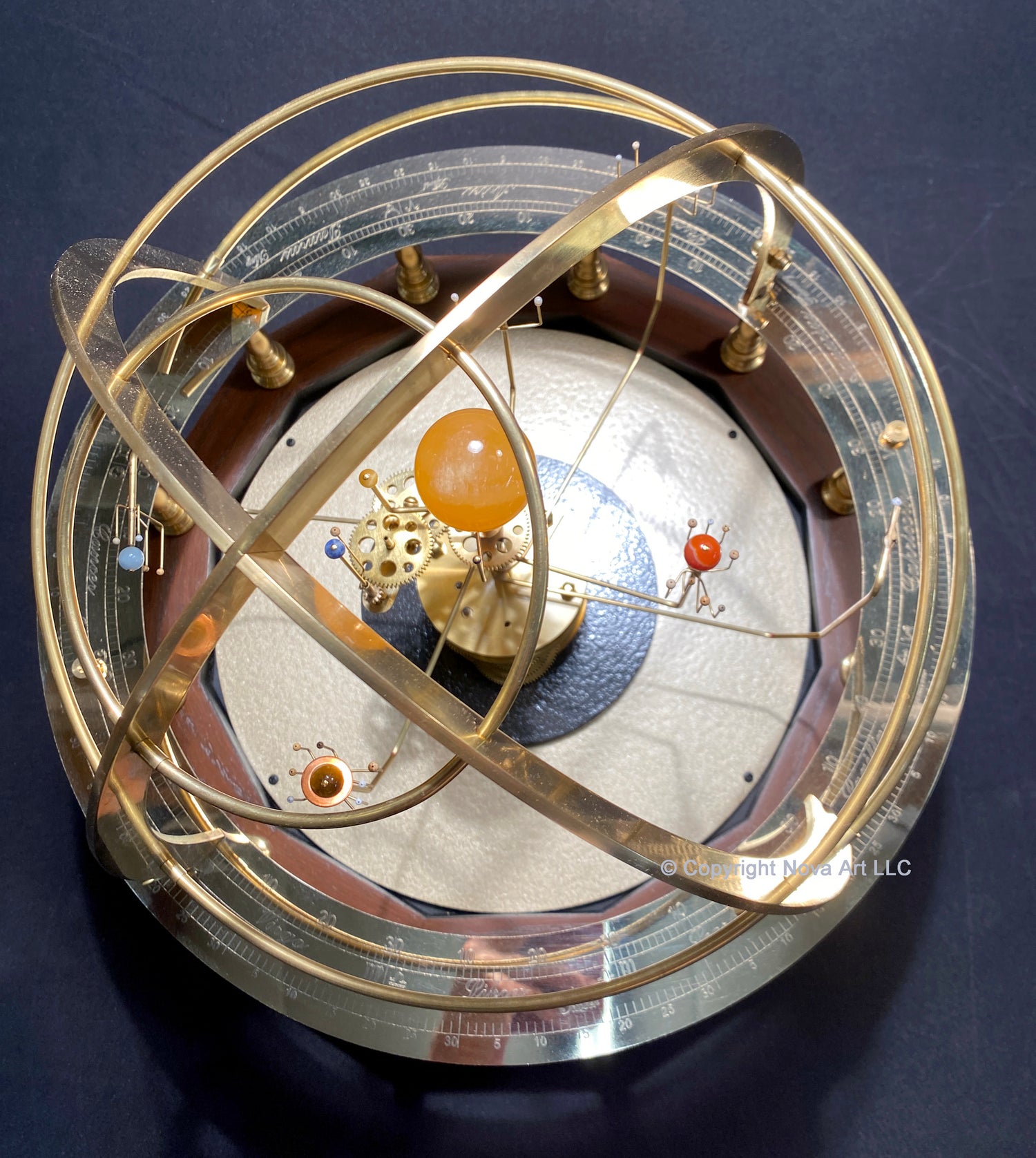 Incomparable Craftsmanship
Each component from hardwood base, gear mechanism, engraved calendar ring, planet sets and armillary sphere are engineered and hand crafted by Science Art in the USA.
About the Baby Grand Orrery
A hand cranked or battery operated low bed profile with a solid walnut, oak or red mahogany surround. A calendar/horizon ring (in brass) depicting days and months of a year; and 360 degrees detailing the classical divisions of the zodiacal zones is supported by 12 brass spindles. Within this celestial theater rests our clockwork, a brass geared mechanism depicting the correct relative orbital movement of all nine planets. The planets are made of semi-precious stones and their major moons are represented. An Earth/Moon system demonstrates lunar orbital movement around Earth as Earth orbits amidst the dance of planets and all around the orange calcite Sun.
,
Features of the Orrery
Sun and Planets/Relative Motion
All planets orbit with correct relative motion, with Mercury orbiting 1028 times for every orbit of Pluto, which is the same ratio as in our solar system. Mercury takes about 4 seconds to orbit while Pluto takes about 4 hours. We speed up the orrery model so that movement is discernible while retaining the correct orbital ratios (i.e. the orrery is not in 'real time' otherwise movement would be indiscernible). Baby Grand Orrery also includes an Earth/Moon system gear work which demonstrates the compound motion of the Moon's orbit around the Earth, while the Earth orbits the Sun. All other moons are static about their planet. The Sun is a stunning 2" orange calcite sphere with the 9 planets and 28 moons depicted in beautiful semi-precious stones. A solid brass Sun with hematite planets and stone moons is also available.
Hardwoods
Each Baby Grand Orrery is crafted with a 12 sided hardwood base of solid oak, black walnut or red mahogany. Custom woods are also accepted if feasible and cost will vary. Please know we do not accept exotic or unsustainable wood requests.
Gearworks, Armillary and Design elements
Atop the hardwood base, an engraved brass calendar/zodiacal ring rests on 12 solid brass pillars.Solid brass gears are used in the mechanism, and are fully visible beneath the orbiting planets.A removable solid brass armillary half-sphere sits atop the calendar ring and beautifully crowns the Grand Orrery.
Specifications
Assembly takes about 10 minutes – assembly instructions and 90-day warranty are in the included owner's manual.
Battery operated models: 3 C batteries (included).
Crank models: This is operated by a hand crank, which turns the model (it is not a wind up). Because the outer planets take some hours to orbit, it would take some minutes of cranking to see the se outer planets move).
We are currently about 3-4 weeks out to ship from our workshop.
Regular price
$2,495.00 USD
Regular price
Sale price
$2,495.00 USD
Unit price
per
Sale
Sold out
Materials

Customer choice of hardwoods and planet styles.
Shipping & Returns

FREE SHIPPING ON INTERNATIONAL AND DOMESTIC ORDERS

NOTE TO INTERNATIONAL CUSTOMERS: DUTY/VAT IS RESPONSIBILITY OF THE BUYER OR RECIPIENT. PLEASE CHECK WITH YOUR COUNTRY'S TAXING AUTHORITY FOR ESTIMATED TAXES. We offer free international shipping, a  $250+ value to help offset any duties assessed by your country.
Care Instructions

Brass and hardwood require only minor dusting with no hard abrasives. Brass will naturally tarnish. If you wish to maintain a bright brass look, use 000 steel wool to polish the armillary sphere, calendar ring and planet arms.
Share
View full details