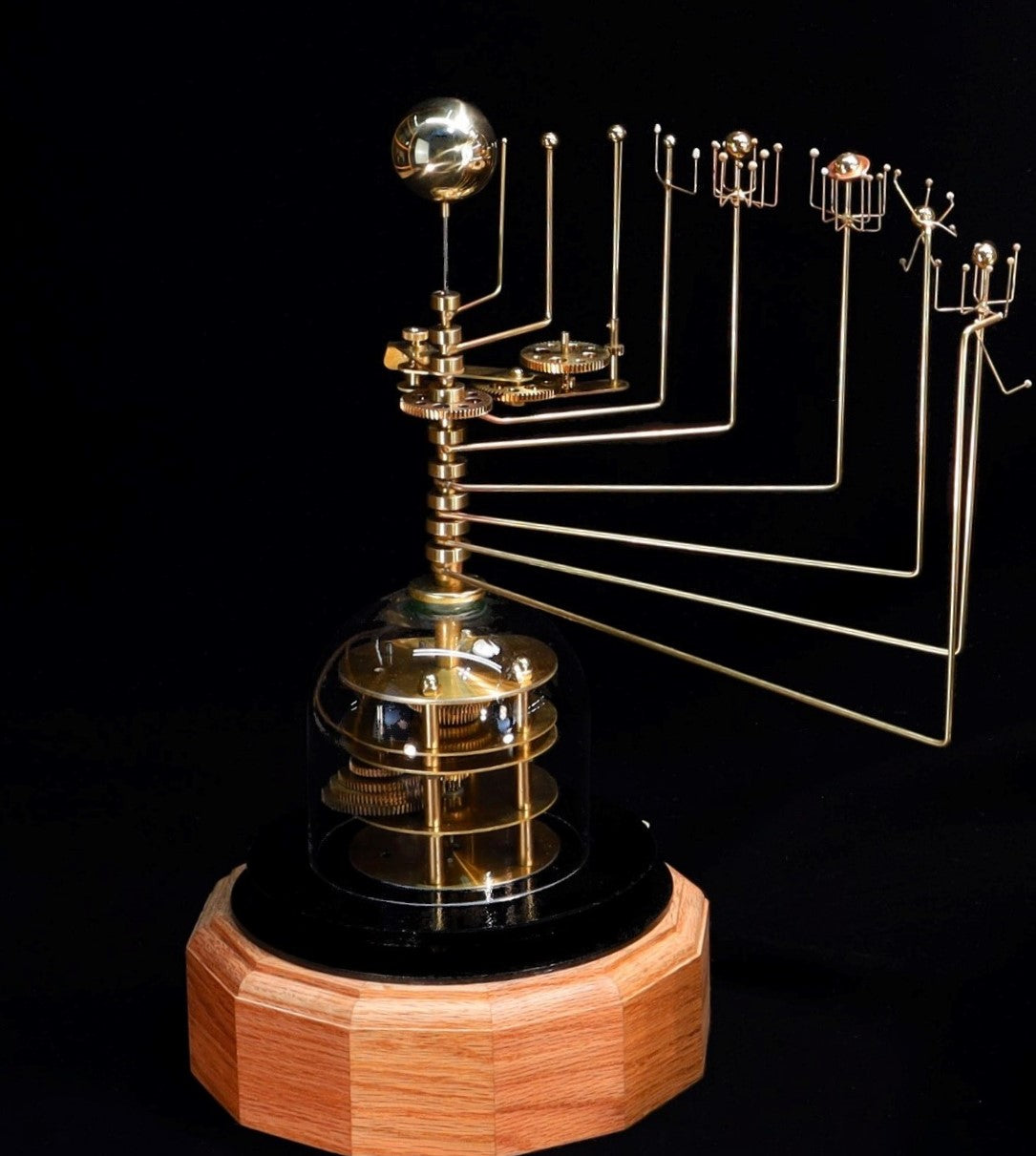 The Wanderers Orrery
Across the night sky the ancient Greeks noticed that certain stars meandered within the sphere of the 'fixed stars'--they named these meandering stars πλανήτης "planétés": A wanderer.
Our Wanderers Orrery presents a stunning union of art and science. This exceptional orrery is Science Art's original design, created 30 years ago with many new improvements and enhancements over the years
Planet Sets
Brass & Hematite Planet set

$1,495.00

The standard presentation used in classical orreries, with a solid brass sphere to represent the Sun. An elegant, minimalist presentation, with the Wanderers mechanism exposed under a glass dome upon a 12-sided wooden base.

Semi-precious Stone Planet Set

$1,495.00

Hand-picked semi-precious stones to represent the variety present in our solar system:

Wanderers Orrery with major moons

$1,695.00

Our Wanderers Orrery with the addition of the 28 major moons of the solar system.

Luna - mother of pearl

other moons - agate

Wanderers Deluxe

with a compound Earth/Moon system $1,995.00

Our Wanderers Deluxe includes the addition of the 28 major moons of the solar system, as well as a Earth Moon geared mechanism depicting the compound motion of the 28 day orbit of Earth's moon as as the Earth orbits the Sun.
Woodwork
Natural Oak, hand-oiled

Natural Oak with Danish oil finish

Solid Red Mahogany, hand oiled

Solid Red Mahogany with light stain

Solid Black Walnut, hand oiled

Solid black walnut with Tung oil finish
Regular price
$1,495.00 USD
Regular price
Sale price
$1,495.00 USD
Unit price
per
Sale
Sold out
Features of the Wanderers Orrery
Correct Relative Speed
The Wanderers Orrery demonstrates the correct relative speed of all nine planets (yes, we do include Pluto). Correct relative speed means the ratio of each planet's orbital time to one another is the same ratio as in real time planetary movement. Mercury orbits 1028 times around the Sun for a single orbit of Pluto, just as it is in our solar system. The model, however, speeds up the orbital times, so that actual movement can be discerned (e.g., it takes Earth a few moments to do an annual orbit, as opposed to taking 365 days).
Planets and Sun are semi-precious stone with an orange calcite Sun, or a solid brass Sun with hematite planets.
Styles include a minimalist model without moons, the Wanderers original with 28 static moons and a deluxe Wanderers with a compound Earth/Moon system. 
The natural subtleties of different hardwoods, semi-precious stone planets, moons and an orange calcite Sun ensure each orrery is artistically unique.
Hardwood Base
The orrery sits upon a 12-sided hardwood handcrafted base of solid natural oak, red mahogany or dark walnut. The base receives and contains the hidden drive motor of the gearwork. Custom hardwood bases available upon request. Please inquire for pricing. Note we do not work in rare or non-sustainable woods.
Gearworks and operation
The solid brass gear mechanism is fully visible and sits beneath a glass dome.
3 C batteries (included) operates the mechanism with an on/off switch.
Specifications
The orrery stands 18" high with a 20" orbital span (i.e. when operating, Pluto will encircle a 20" orbit).
Easy assembly takes merely 5-10 minutes.
Owner's manual and warranty included.
View full details